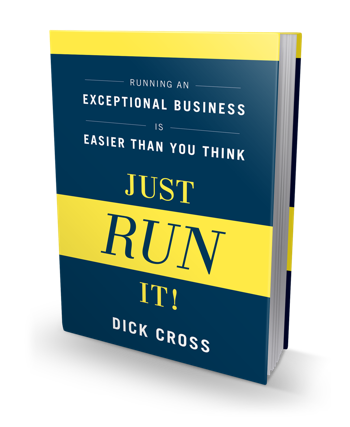 The pages of Just Run It!  are a compelling argument to rethink how you do your job at the top of your business organization.  The concepts are simple and immediately understandable,  And they will make a difference in your satisfaction at work the very next day.
But like most things that entice us about making shifts in our fundamental thinking, it often takes more than a one-time reading to actually adjust accustomed patterns.  To set new standards that update how we have been operating — both consciously and unconsciously — over long periods of time.
One of the best ways to "groove" a reading like Just Run It! into new habits is through personal interaction and discovery.  Hearing and seeing the ideas through additional recounts that further illuminate their applications.  Talking with others about the challenges they foresee in adjusting themselves to new learning.  And listening to war stories from those that already have.
That's what Just Run It! Summits are all about.
Gatherings of like-minded individuals who want to understand more viscerally how to make the ideas from the book actual parts of their lives.
Who want to develop relationships with the author and meet and learn from others on the same track.
And who might even be seeking a few new colleagues with whom to track progress and support one another going forward.
They're also break-away experiences for entire management teams that want to "raise their game" together, and reignite their energy and fascinations with their opportunity.
The agendas are a combination of new stories from the author, issue-centered discussion groups and exercises that actually get you started down a productive path and lay out a continuation course for you over a 6-12 month timeframe.
Think of a Just Run It! Summit as a IV feed of adrenalin.  Something to raise your pulse.  And if you are not satisfied, we'll refund your registration fee.
Find out about a Just Run It! Summit near you by emailing Dick at Dick@DickCross.com.