60-Minute CEO: Mastering Leadership an Hour at a Time
Coming Soon – April 15, 2014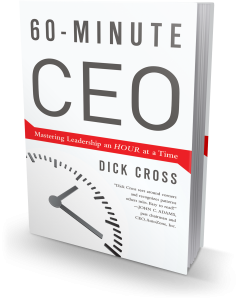 Looking toward the C-suite? Take heed. Author and serial CEO Dick Cross pulls back the curtain on this top leadership role, explaining in his new book that being a successful leader, running a business, and doing it extraordinarily well isn't a full-time job.
How do you successfully lead and run a business? The answer may surprise you. Cross suggests that the most important, and often overlooked, duty for a CEO is thinking about how to improve his or her business and how to be a leader. In 60-Minute CEO, Cross explains that the essential elements of the CEO role can be accomplished in several 60-minute sessions every week. Executives may fill their time with other tasks, but leading and running a company requires explicit skills different from those needed for any other corporate position.
In 60-Minute CEO, Dick Cross brings over 25 years of experience of transforming companies in various stages of underperformance into industry powerhouses. Cross combines his knowledge and experience with the stories and lessons of preeminent leaders and thinkers including General George Patton and Seattle Seahawks quarterback Russell Wilson.The good news is that those skills are easy to learn, fun to do, and not time-consuming. In an entertaining style, Cross offers executives the fast track to the top leadership position, focusing on two aspects: thinking and character. And while 60 minutes may seem like a quick fix, as Cross sees it, three 60-minute sessions a week devoted solely to considering your business and your role as leader are crucial to business and leadership success—and the payoff is proven.